CHRISTMAS WINE GLASSES CANDLE HOLDERS (expanded line)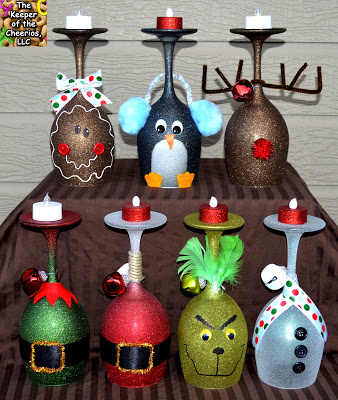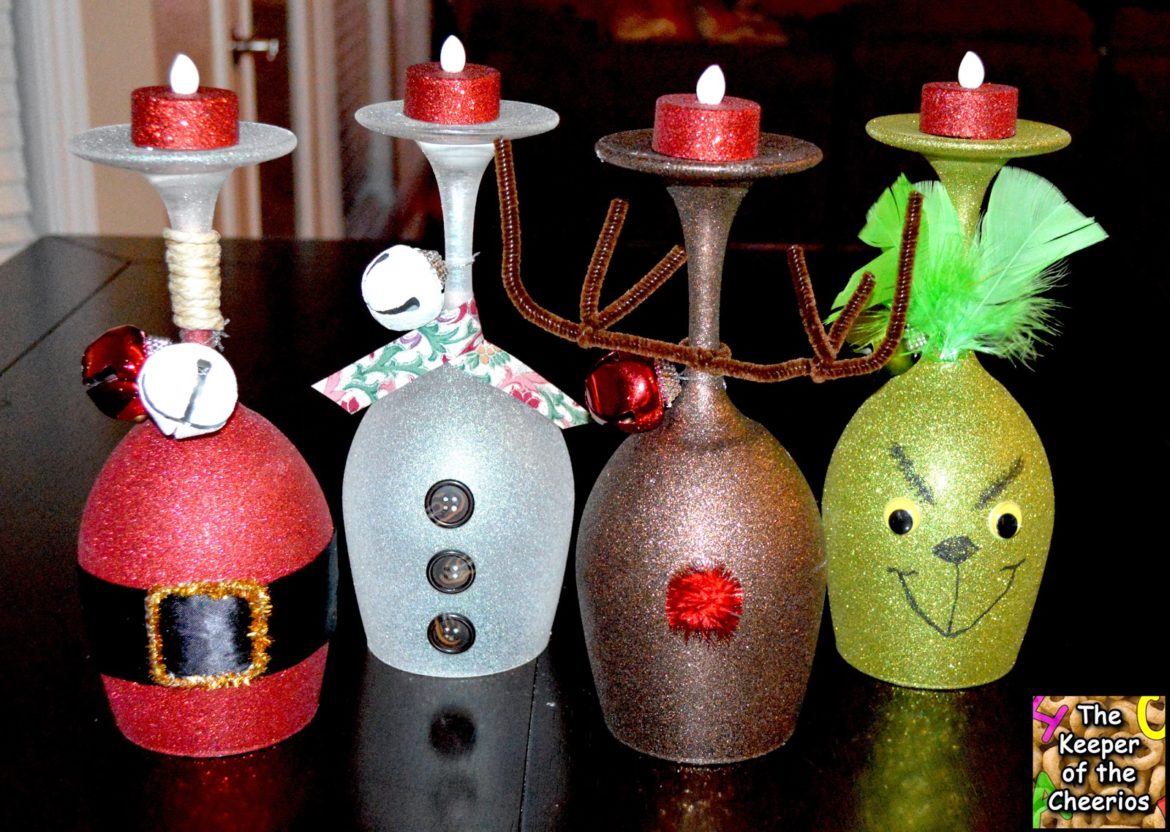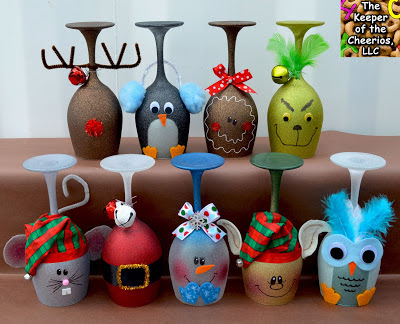 Christmas wine glasses candle holders- how fun are these super easy and very inexpensive Christmas decoration. These would make a great Christmas project, and fun diy Christmas party decoration. 
Materials: Dollar Store wine glasses, buttons, wiggle eyes, glitter spray paint (Bronze Blaze, Citrus Dream, Diamond Dust, Lucky Green, Starry Night, and Cheery Bomb), bells, pipe cleaners, feathers, ribbon, pom poms, felt, sharpie, hemp and one red pom pom.
 (looking for the glitter spray CLICK HERE for where I purchase mine, Looking for the yellow wiggle eyes CLICK HERE)

 Make sure your glasses are clean then simply spray them with the glitter spray and let dry for 24 hours. Once dry you can embellish them any way you want. I used hemp for the stem on Santa along with ribbon and a gold pipe cleaner (chenille stem), Elf used ribbon and a gold pipe cleaner (chenille stem) and red felt, gingerbread man I used paint pen, sharpie, buttons and a ribbon, penguin I used felt, pom poms, chenille stems, and wiggle eyes, for the snowman buttons and ribbon for a scarf, for Rudolf simply a glitter pom pom and pipe cleaner antlers,  and the Grinch some feathers, wiggle eyes and a sharpie for the face. We had these adorable Christmas bells at my work so I tied some to each glass just for a little extra. All Items where glued on with hot glue or basic craft glue (I used Tacky Glue).
Penguin Tip: For the penguin I sprayed the inside of the glass white (or you can do a coat of white on the outside), then cut out of paper the shape of the belly (wet the paper and lay on the glass, over the white area) while the paper is damp it sticks to the glass long enough to spray the black over top, once dry you can easily removed the paper and the white underneath will show through.

NOTE: When spraying these you must treat it like any spray paint, you need to do it in coats and spray at a slight distance, if you get to close or spay too much in one spot at a time then the paint/ glitter can run. Shake the can VERY well before spraying to mix the glitter, this also helps to keep the can from clogging. If you live in a cold/ damp climate you need to take caution when spraying it may not tack up if its too cold out (you can spray them in a garage or somewhere warmer to help, but be careful of over spray in this case).
These are so much fun because the possibilities are endless! you can do anything you want and make any character you want. Just need some glitter spray and away you go!
Note: These are for decoration purpose only, not meant for actual food use.
 IF YOU LIKE THESE MAKE SURE TO CHECK OUT MY OTHER WINEGLASS CREATIONS (and more Christmas designs) HERE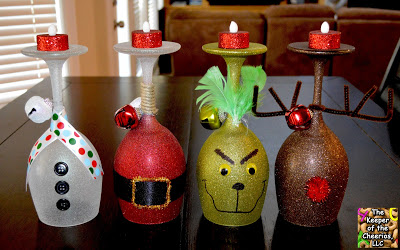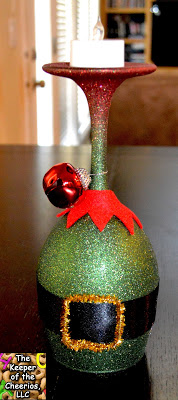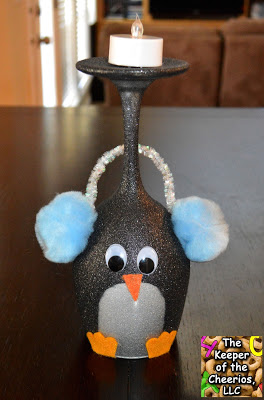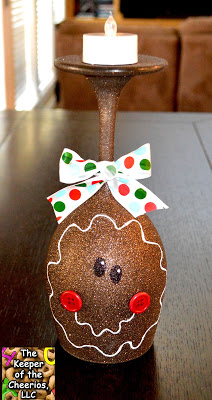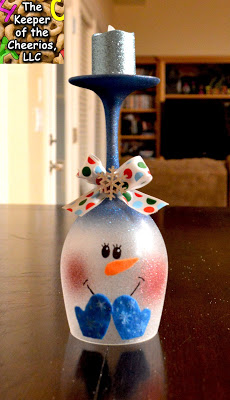 This post contains affiliate links br>