Brimstone Cookies
We just love these red velvet Brimstone cookies, they are a perfect Halloween treat for parties or just for fun.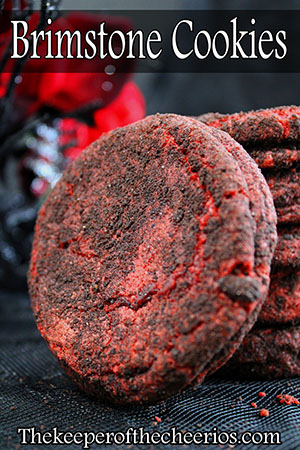 | | |
| --- | --- |
| | |
Preheat the oven to 410° degrees F.

In the bowl of a stand mixer, add the cubed cold butter and granulated sugar.

Using a paddle attachment on low speed for 1 minute combine the ingredients.

Increase the speed to high for 1 minute, scrape the sides for even blending.

Add the eggs, one at a time to the sugar mixture, make sure it is completely combined. Add the vanilla

Add the red food coloring and cocoa powder and mix on low until combined.

In a medium sized bowl add the cake flour, flour, baking soda, cornstarch, and salt.

Add the flour mixture to the sugar mixture and beat until combined.

Scrape the sides to make sure it is completely combined.

Refrigerate the dough uncovered for 20 minutes to chill.

Using a digital cooking scale, use your hands to measure out 3.5 o of dough, forming it into a ball.

Place the crushed Oreos in a medium sized bowl.

Roll the cookie dough into the crushed oreos lightly pressing the Oreos into the dough.

Place the cookie dough balls about 3" apart from each other on a parchment lined baking tray.

Bake in the center rack of the oven for 10-11 minutes.

Remove from the oven and let cool.
Yield: 18 cookies Prep Time: 12 minutes Chill Time: 20 minutes Bake Time: 11 minutes for each tray ( 3 trays ) Total Time: 1 hour and 5 minutes
This post contains affiliate links br>