Wreath For Addalynn's Birthday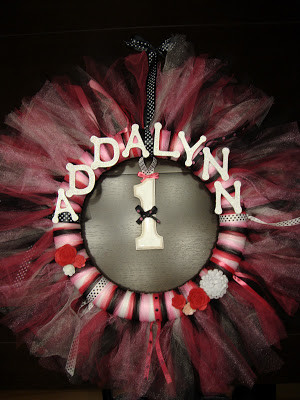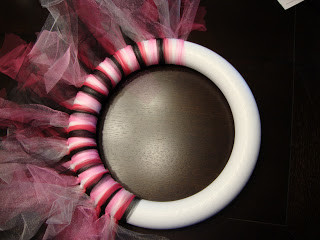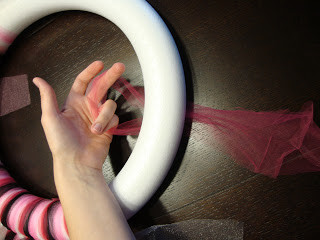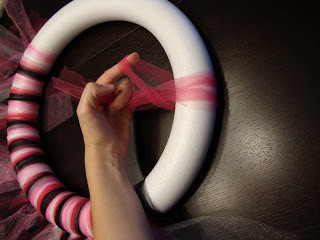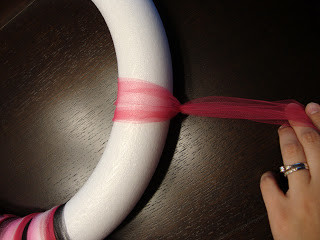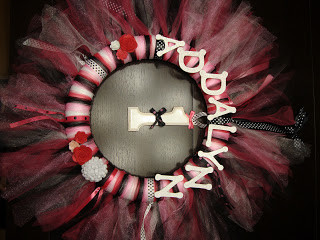 Materials: Tulle,Wreath ring, Ribbon, Scissors, Hot Glue and Hot Glue Gun, Wood letters and Number.
Directions: Cut your tulle in strips about 24″ long (depends on how long you want it to be) by 4″-6″ wide. Take your first strip and fold it in half and stick under one section of your wreath ring and then pull the two bottom ends up and over the ring and through the top loop of the tulle, pull tight (follow pictures above). Do this all of the way around your ring rotating colors, make sure to keep the strips close together, this keeps the wreath full and no foam showing through. Once you have covered your ring take strips of ribbon and tie onto the ring to give it a little extra color. I then took my wood letters and hot glued them to the wreath along with some felt flowers. To add the number i took some ribbon and tied to the top of the ring to hang it from and looped another piece of ribbon through the bottom of that one and glued to the wood number so it would hang in the center. You can add more ribbon or paint to your number giving it a little more color if you prefer.
This post contains affiliate links br>