Trolls Movie Easter Basket Idea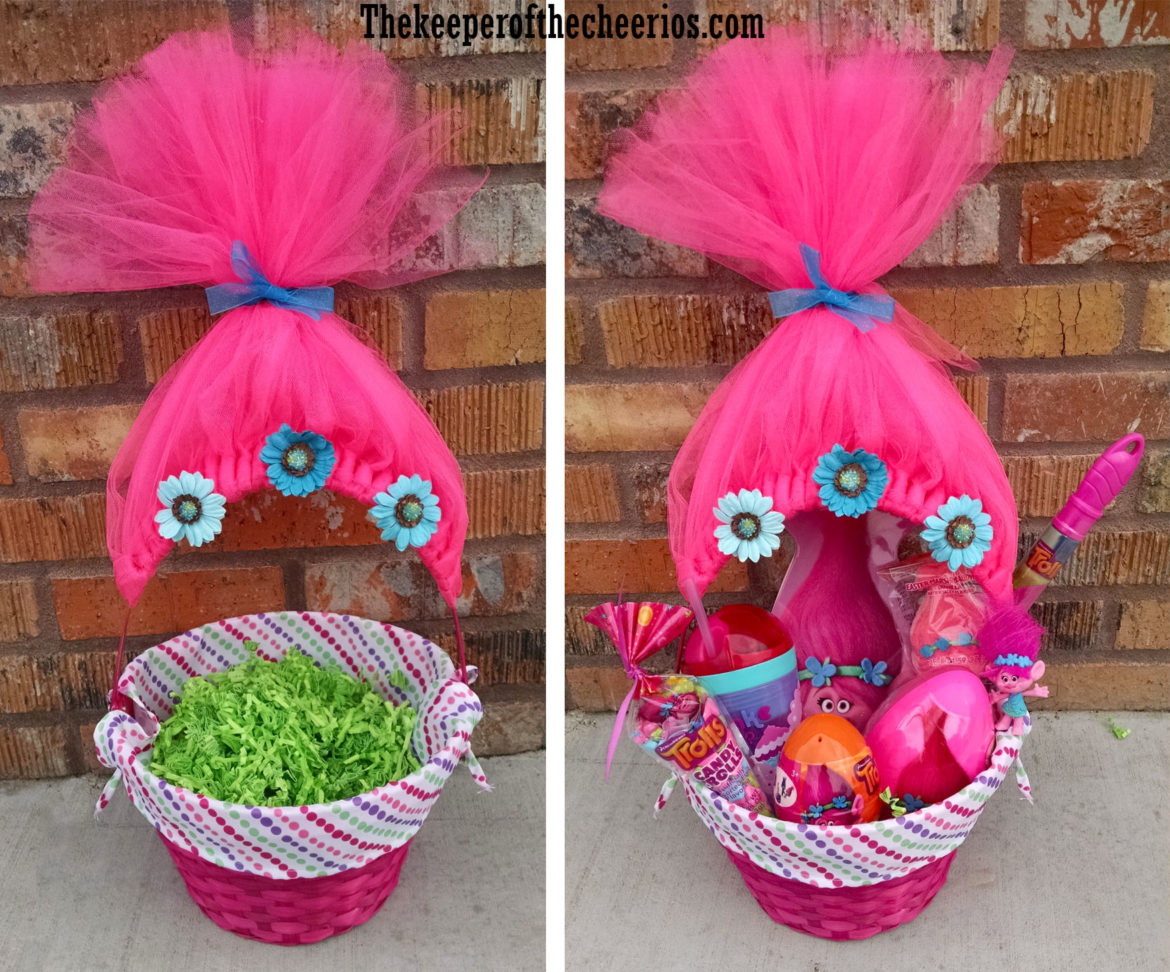 Like most kids right now my daughter is crazy obsessed with the new Trolls Movie
so for Easter this year I wanted to make her an extra special Trolls Easter basket (Poppy inspired hair).
MATERIALS
Basket
Hot pink tulle (it takes one 6″ x 25 yard roll)
Bright blue flowers (I used paper ones found in the scrapbook section of a craft store)
Piece of cardboard
scissors
hot glue and glue gun
DIRECTIONS:
Measure out how big you want your tulle pieces to be on your basket
Cut a piece of cardboard to size
Wrap your tulle around a piece of cardboard and cut one end of the tulle off of the cardboard (I used one entire roll of tulle (25 yards) per basket)
securely tie each piece of tulle to your basket handle
when all of your tulle is on the handle, gather the tulle together at the top and tie with a rubber band
Trim any excess tulle from the top so your hair making it even
Tie a blue ribbon around the rubber band, making a bow
Hot glue on some blue flowers at the base of your hair (one the handle)
Add some lime green basket filler
Fill your basket with fun Troll goodies
NOTE: The cardboard piece I used fore my basket was about 18″ long making the tulle pieces appx 36″ long (then fold in half to tie on making it appx 18″ tall on the basket). Thus you may need a different size depending upon how large your basket is, the handle styles, ect.. Be sure to measure a piece of tulle on the basket first before cutting all of your pieces.
This would be fun to make in all different colors, for a boy it would be fun to make one that looks like Branch (use blue tulle for the hair and a green basket)
(UPDATE- EXTRA IDEAS IF MAKING BRANCH) If you are wanting to make one that looks like Branch I just seen where someone did a tub instead of a basket and they still tied the hair together but did not use a bow and it turned out well (see it here –> http://rstyle.me/n/cgmc6nb8rv7)… It would look great if you used a grey, blue or green basket with blue or grey hair ? Another possibility if you are not wanting to tie the hair at the top, would be to add some starch to the tulle (I would tie the tulle on the basket first, then lay the basket down on its side shaping your hair the way you want, lightly spray with starch, then let it dry) I have not tried using the starch with the tulle before but I have used it on cheesecloth for Halloween projects and it worked great- this would be the same idea – I have Not tested out the starch idea so it would be under trial and error 🙂
Don't want to make one? Find some really cute ones like it HERE or HERE or HERE
—–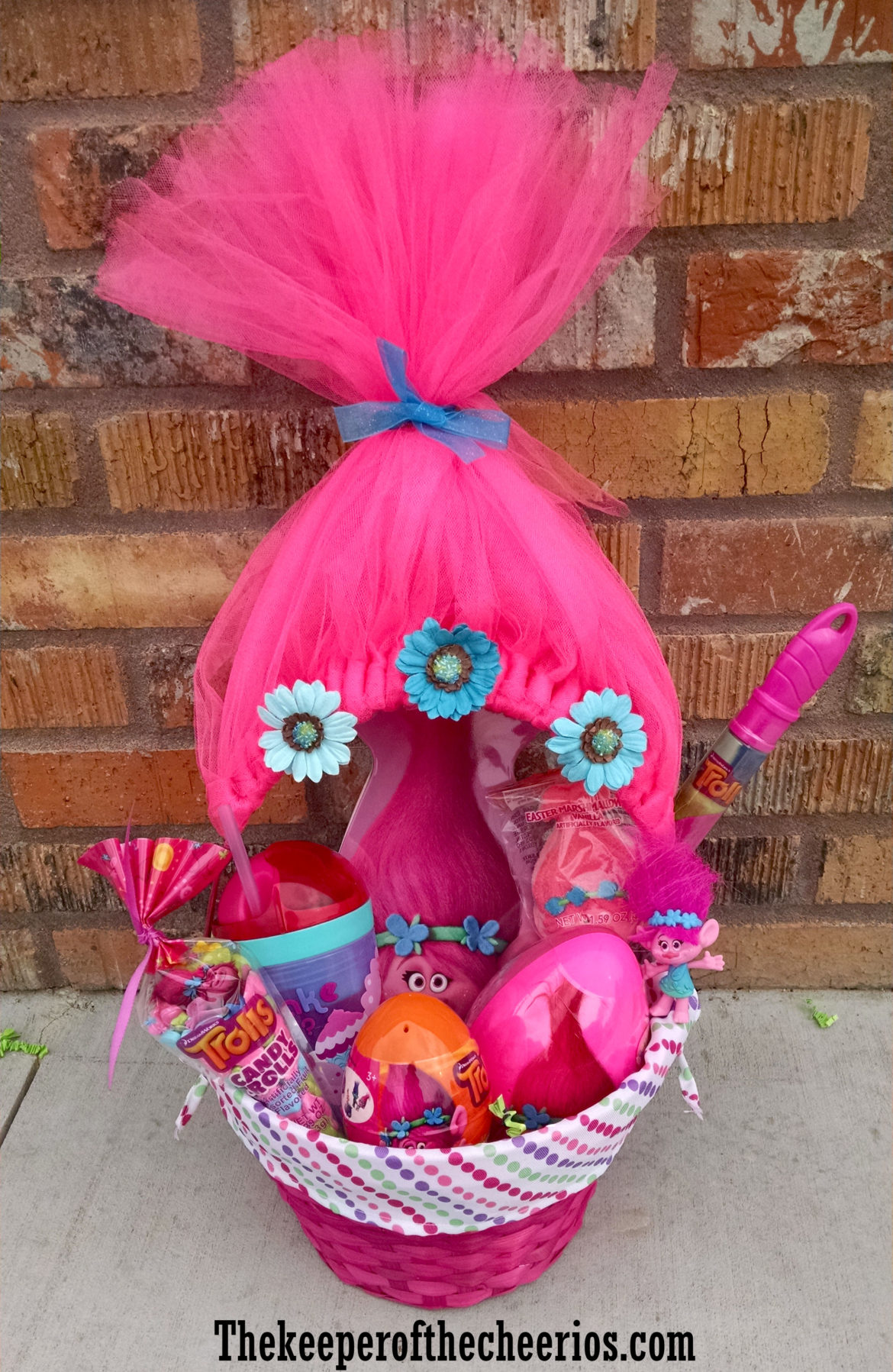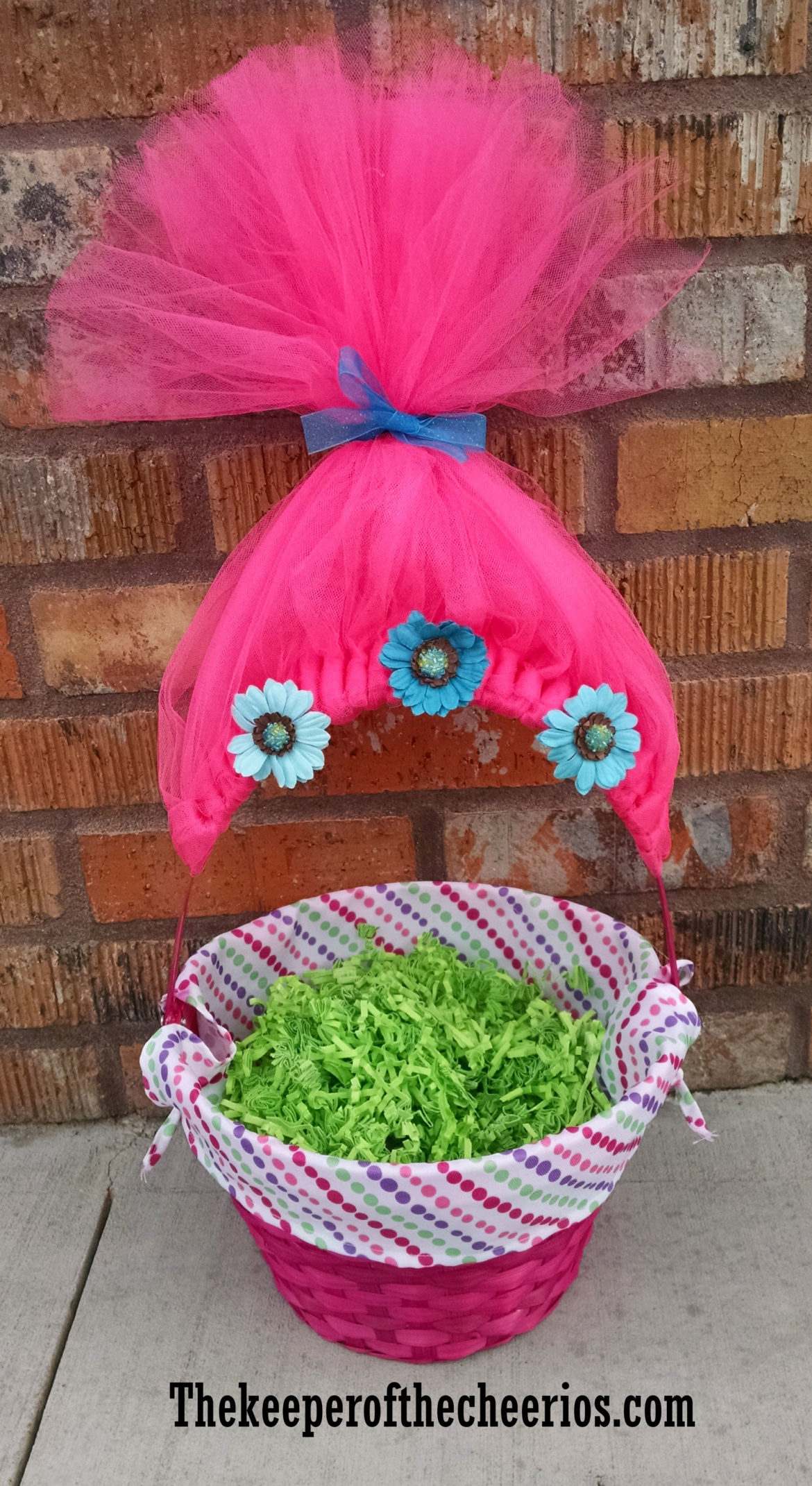 This post contains affiliate links
This post contains affiliate links br>