New England Apple Cider Cake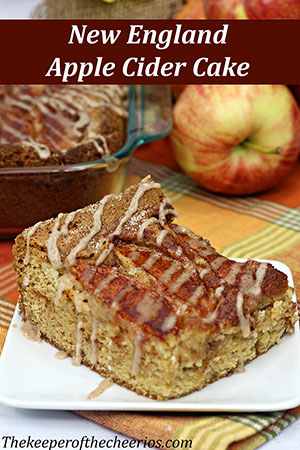 | | |
| --- | --- |
| | |
Pour one cup of apple cider into a saucepan. Put the saucepan on the stove top bringing it to a boil. Continue to boil until the apple cider has been reduced to 1/4 cup. Set aside.

Add the apple slices in a large bowl of water with freshly squeezed lemon juice. (juice from one lemon). Immediately transfer the apples to a plate allowing them to dry. Set aside.

Preheat oven to 350 degrees. each

Prep the baking pan with baking spray.

Add butter and sugar to the mixing bowl.

Beat the butter and sugar until it is smooth.

Continue beating while adding one egg at a time beating until blended. Scrape the sides of the bowl. Beat for additional three minutes or until it is light and fluffy.

Sift flour, baking powder, baking soda, and salt in a bowl.

Add the cider and cream together. Mix to blend. Turn the mixer on low, begin alternating adding the flour mixture and the cider/cream mixture to the butter, sugar, and egg mixture. Scraping the sides to make sure that the batter is smooth and incorporated.

Pour the batter into the prepared baking pan. Arrange the apples. Start at the outer edge working up into the top of the batter.

Mix the sugar and cinnamon in a small bowl. Sprinkle it over the top of the apples on cake. Put the cake in the oven at 350 degrees for 50-60 minutes. (Or until a toothpick inserted in the middle of the cake comes out clean.)

When the cake is done, remove it from the oven cooling to room temp. Leave whole or cut into squares. Set aside.

Pour the second cup of apple cider into a saucepan placing on the stove. Watch so that the apple cider only reduces down to two tablespoons, no more.

Add the confectioners sugar in a small bowl. Slowly add the apple cider in addition to one tablespoon of milk stirring to blend. If needed add the last tablespoon of milk, a little at a time until it becomes thick but runny enough to drizzle on the cake.

Using a spoon drizzle the glaze on the cake.
This post contains affiliate links br>