Salted Caramel Apple Butter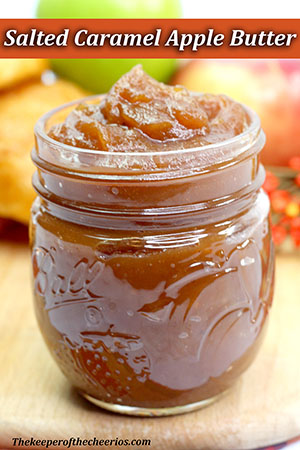 | | |
| --- | --- |
| | |
Prep the slow cooker with a coat of cooking spray.

Add the apples, apple juice, and all of the spices in the slow cooker.

Turn on high cooking for an hour.

Add a third of the stewed apple mixture to the food processor.Continue to blend until the apples are smooth.

Repeat the process until all of the stewed apples are blended.

Pour the mixture back in the in the slow cooker.

Turn the slow cooker on low and continue to cook for 6-8 hours. (The apple mixture will be about half of what it was.) Set aside.

Caramel Sauce Directions:

Add the maple syrup, butter, and brown sugar in the skillet and cook on medium to high heat.

Begin to whisk the butter, syrup, and brown sugar continuing until the mixture has thicken and is bubbly.

Continue whisking while adding the salt and milk. (1-2 minutes) Remove from the heat.

Set aside to allow to cool.
This post contains affiliate links br>