Unicorn Pancakes
Are you looking for a super fun and easy breakfast idea for your little one? These unicorn pancakes are so fun and super easy to throw together, your little unicorn lover will be so excited to eat these fun pancakes. What better way to start off any morning or a fun way to celebrate a birthday then whip up some adorable unicorn pancakes.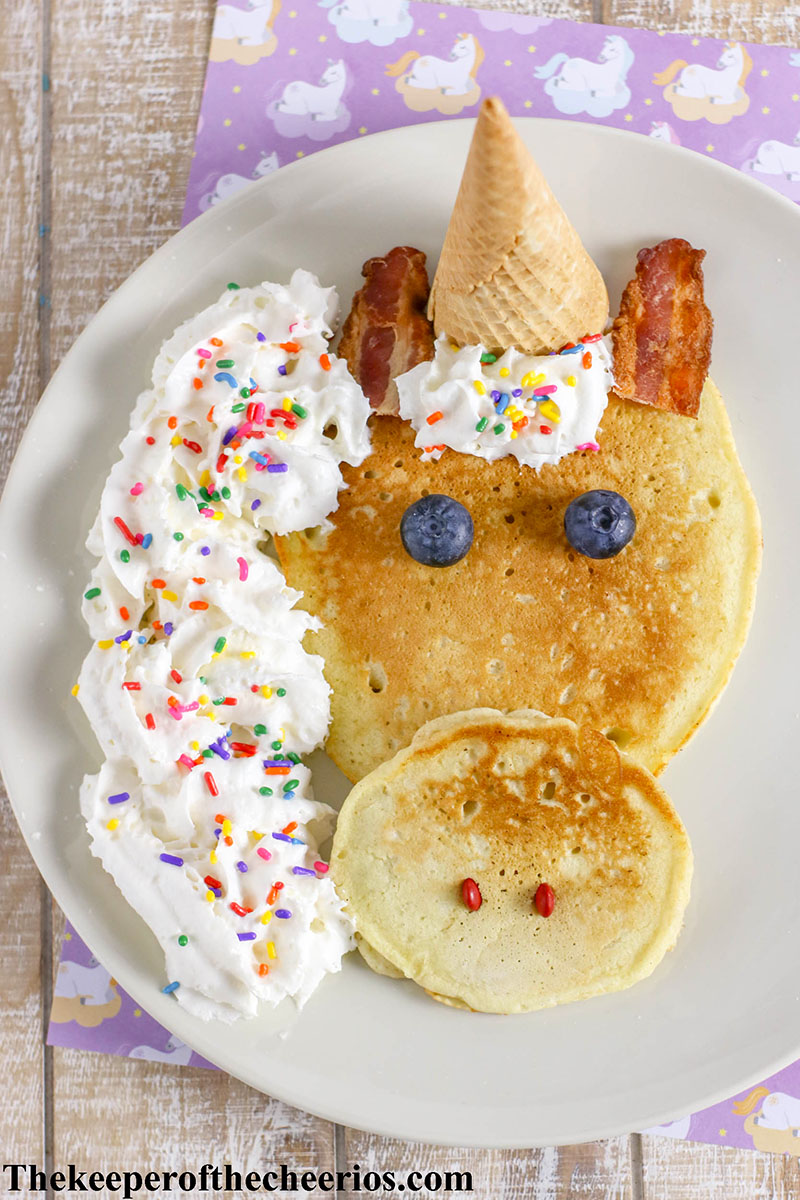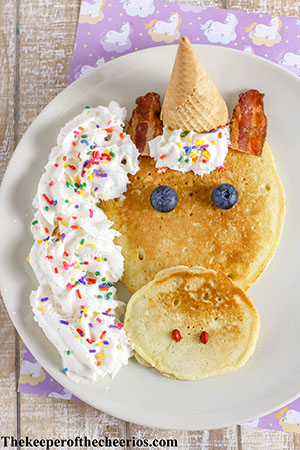 | | |
| --- | --- |
| | |
In a medium bowl, whisk together dry ingredients: flour, sugar, salt, and baking powder.

In a separate bowl, whisk together the eggs, milk, and vanilla. Then, slowly add the butter.

Create a well in the middle of the dry ingredients. Pour wet ingredients into the well and stir the batter until combined. There may be small lumps. Allow the batter to rest at least 5 minutes.

Heat a griddle to 300 degrees. Spritz with non-stick cooking spray for coat with additional butter prior to adding batter.

For the unicorn, pour about 1 cup batter on the griddle. For the snout, use about ½ to 2/3 cup batter. When bubbles begin to break on the surface of the pancakes, flip and cook an additional 2 to 3 minutes or until completely cooked through.

To decorate the unicorn, place the face pancake on a large plate. Put the smaller pancake towards the bottom of the larger pancake.

For the snout of the unicorn, place two small slits and then shoved one M&M sideways into each hole.

Position the eyes above the snout.

Cut bacon in half (perhaps three pieces depending on the length) and place two pieces of bacon as the unicorn ears.

When ready to serve, use whipped topping to create a mane. Sprinkle lightly with rainbow sprinkles. Top with a sugar cone as the unicorn horn. Serve immediately.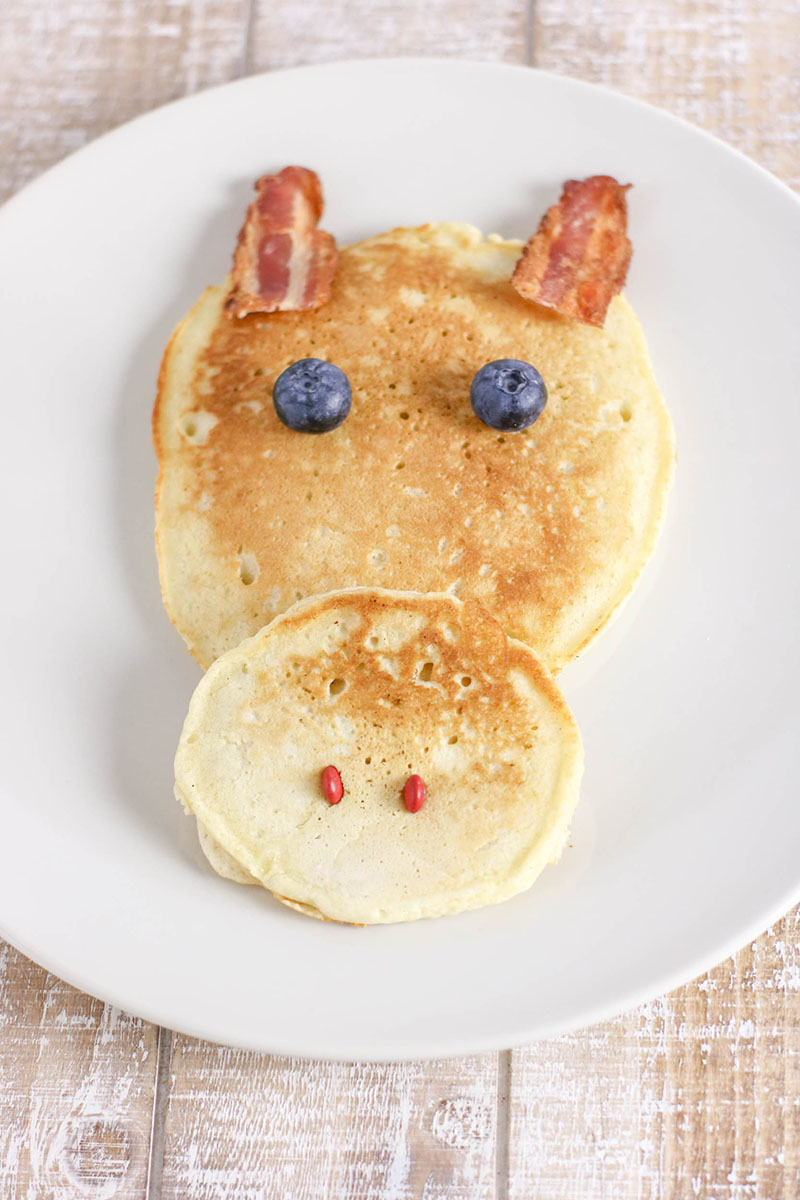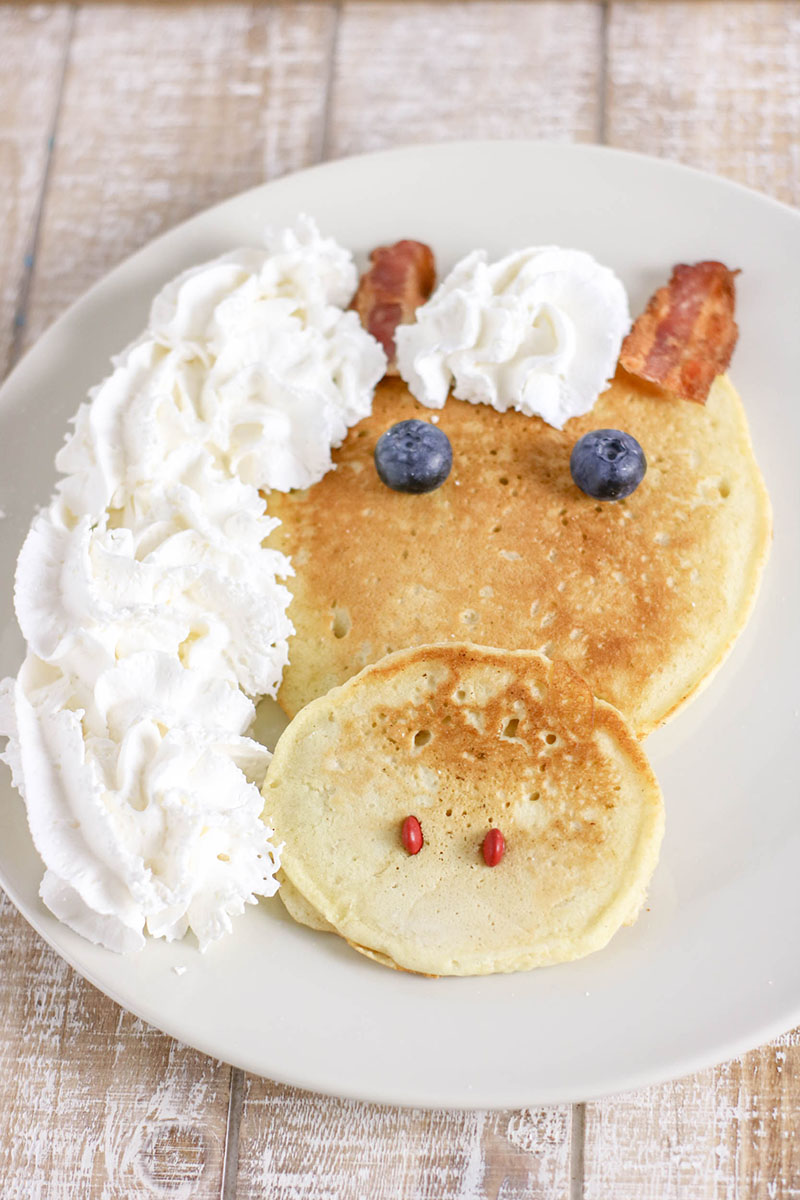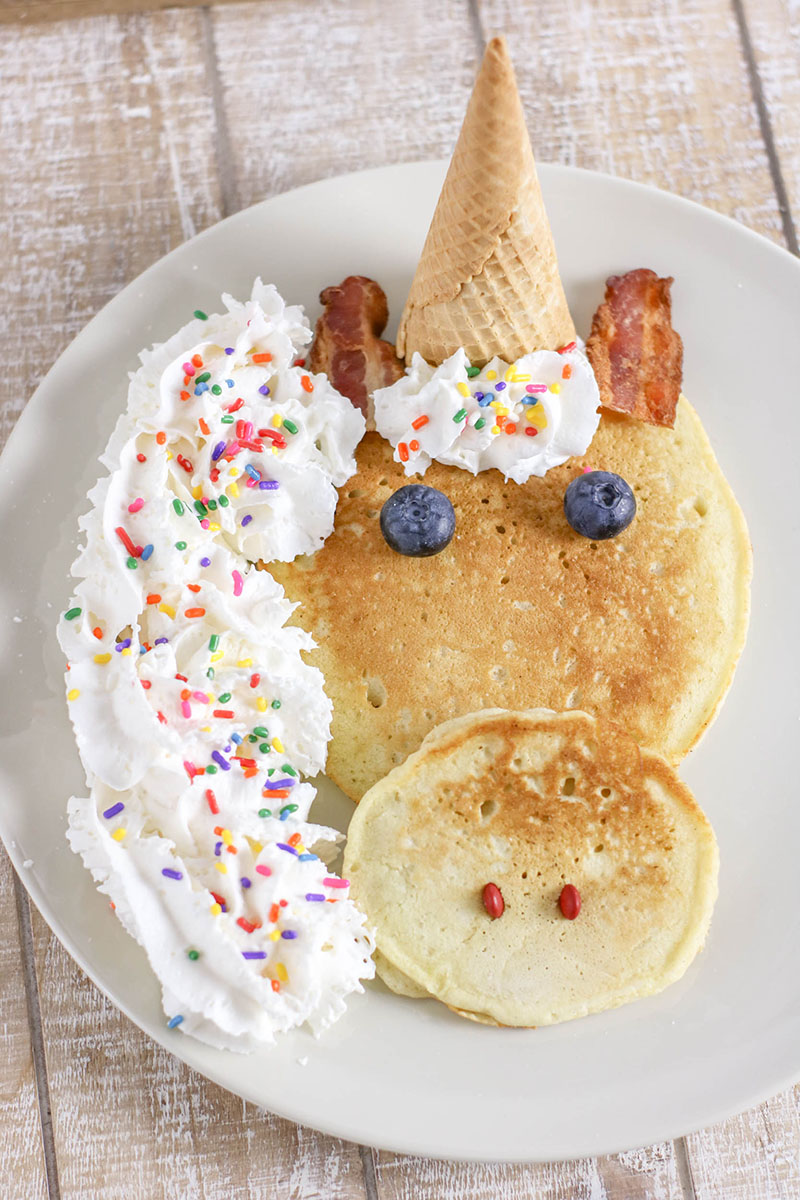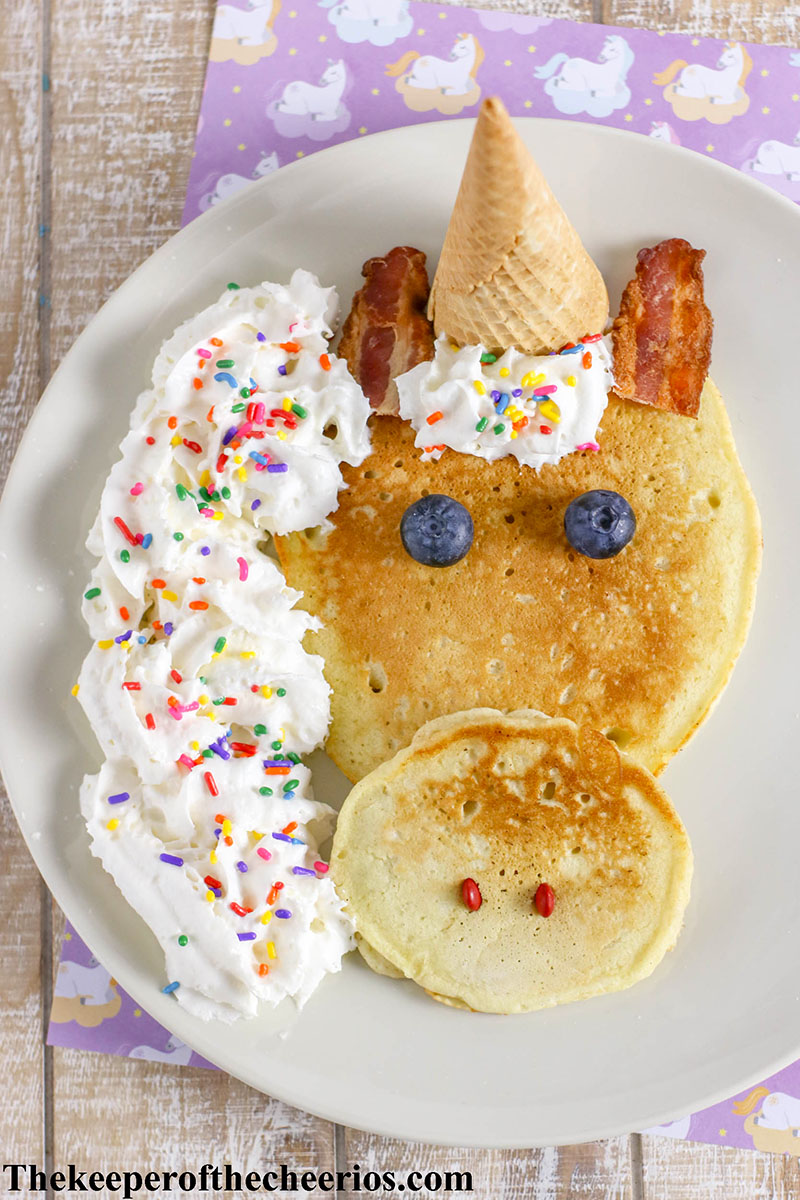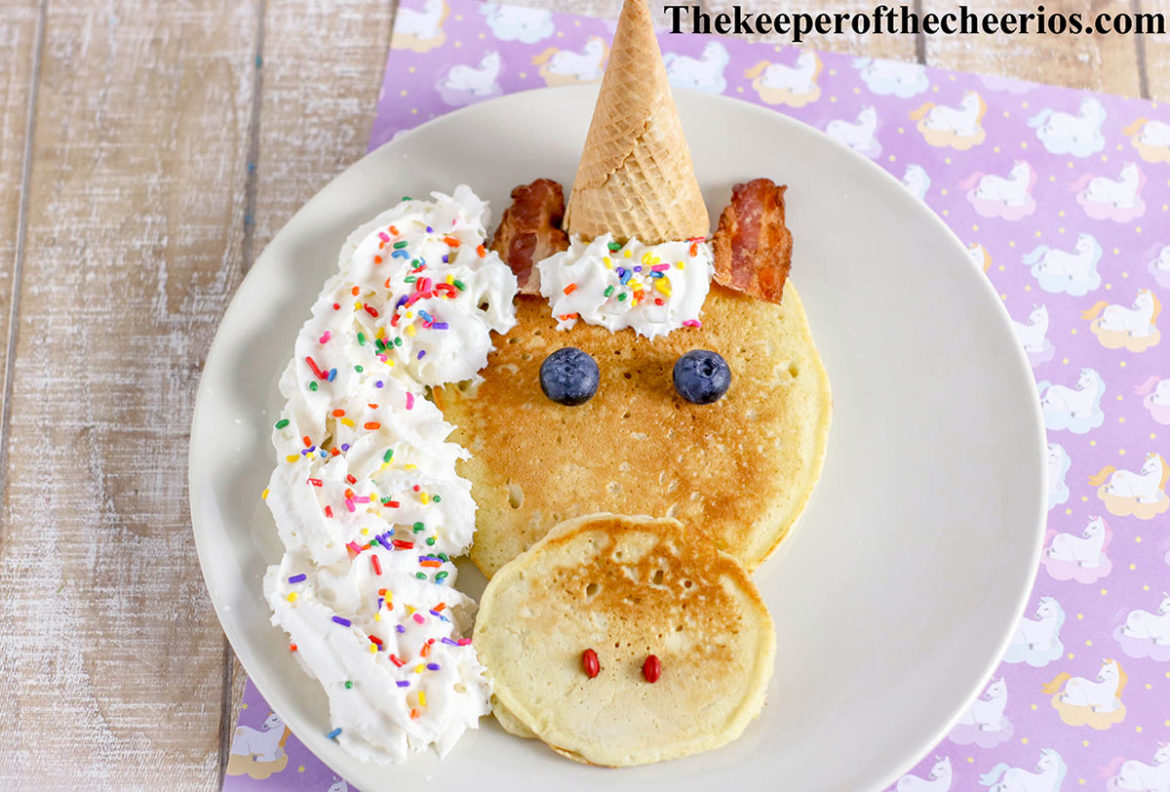 Do you love unicorns? See more of our fun unicorn ideas HERE
This post contains affiliate links br>