Valentines Day Bear Cupcakes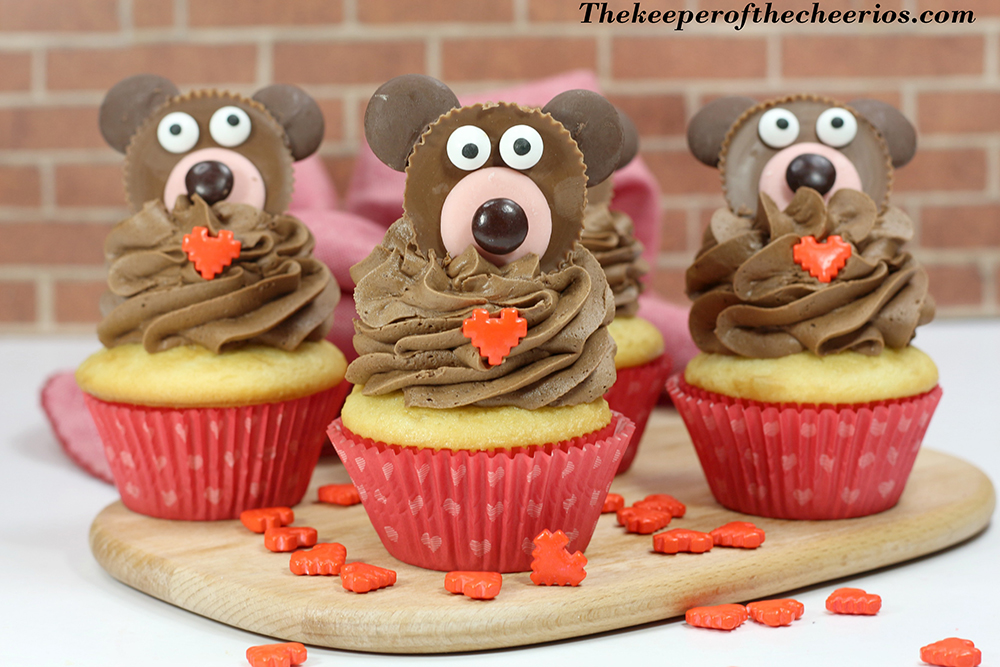 These Valentines Day Bear Cupcakes might take just a few minutes of time but they turn out so stinking adorable and are super fun to make with the kiddos. Not only are these Valentines Day Bear Cupcakes adorable but they also make a great treat for school parties and a wonderful Valentines day gift idea to that special someone in your life.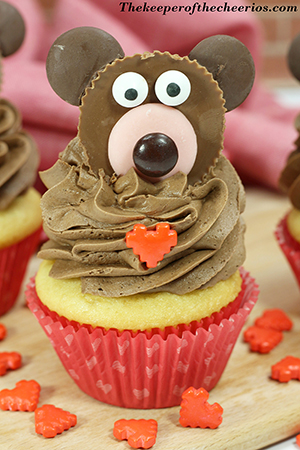 | | |
| --- | --- |
| | |
Preheat oven to 350 degrees and line cupcake pan with cupcake liners

Using a standing or a hand mixer, beat together all cupcake ingredients until combined

Scoop cupcake batter into liners, filling about 3/4 way full and bake in the oven for 21 minutes

Chocolate Frosting Directions

Using a standing mixer, beat together the butter, powder sugar, cocoa, vanilla and heavy whipping cream until combined and stiff with peaks

Scoop the frosting into the piping bag and set aside

Remove 42 chocolate wafers from the Ghirardelli bags and place onto a cutting board.

Using a microwave safe bowl, melt 1 cup of the chocolate wafers in increments of 30 seconds, mixing after each time until melted and smooth

Scoop into the piping bag and set aside

Place one unwrapped Reese peanut butter cup onto the cutting board

Cut the tip off the piping bag and pipe a small dollop of chocolate onto the lower center of the peanut butter cup

Place a pink wafer onto the chocolate dollop. This is the mouth and nose of the bear

Pipe two dollops of chocolate above the pink wafer for the eyes

Place two eyes onto the two chocolate dollops

Pipe a small dollop of chocolate onto the "M" side of the "M&M" and then place onto the center of the pink wafer

Using the small round fondant cut out a half shaped moon out of the bottom of the chocolate wafers.

Pipe a line of chocolate onto the cut part of the chocolate wafer

Place the chocolate wafer onto the upper left and right corner of the peanut butter cup for the ears

Repeat steps with remaining Reese cups

Allow to dry for 10 minutes

While the bears are drying, pipe frosting onto the cooled cupcakes

Once the 10 minutes is up, carefully place the bears onto the middle of the frosting and lightly push down into the frosting.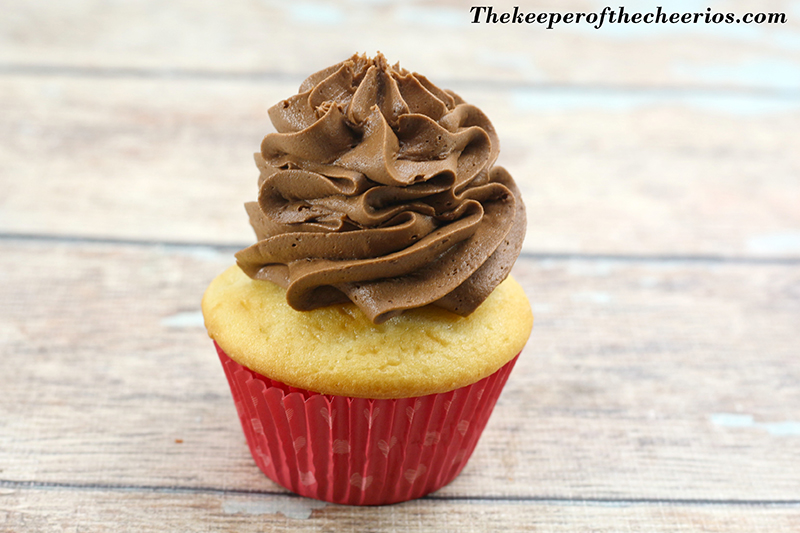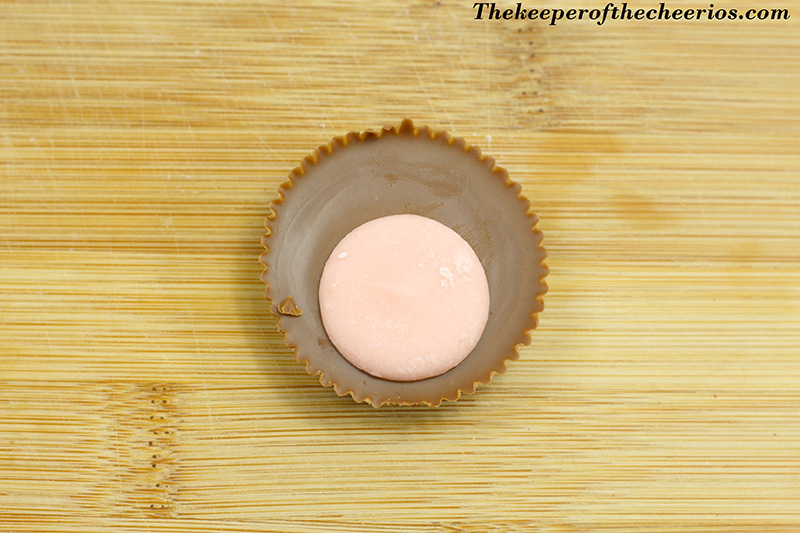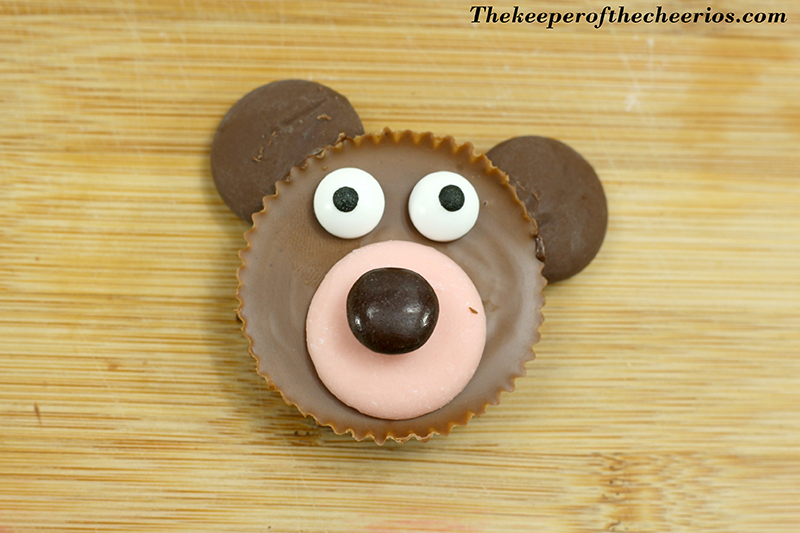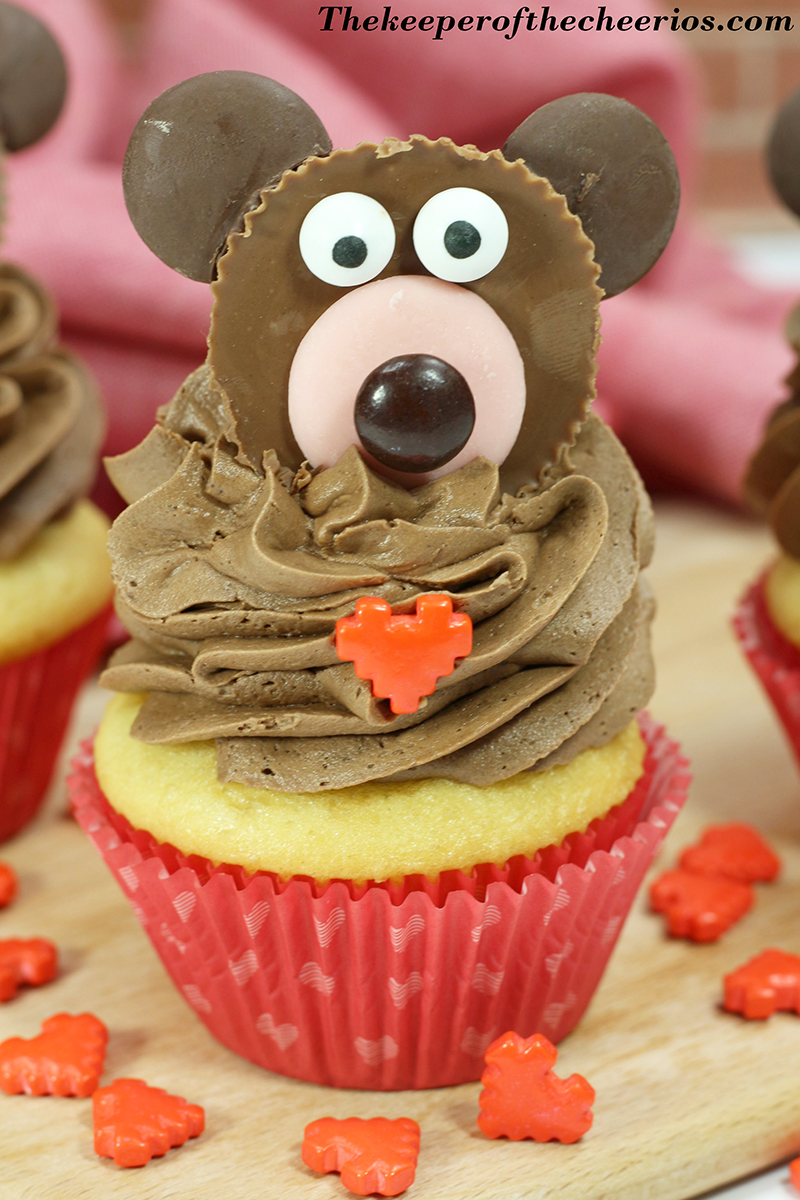 This post contains affiliate links br>