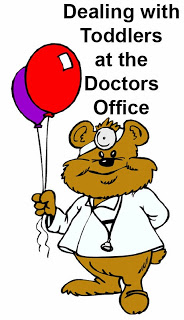 Dealing with toddlers at the Doctors Office
Ok so I had to take my two kids and myself to the doctor yesterday because needless to say my entire household had been sick for almost 2 months; once one gets well, the next is sick, it has been a never ending battle. Now going to the doctor with 2 very small children is not the easiest of tasks, let me remind you one is 3 months and the other is 2 1/2 years old, my trip yesterday was a total NIGHTMARE! My 3 month old was crying most of the time while the 2 year old was into everything; she was literally a holy terror.
Getting to the point of this rambling, I had been talking with my sister who has two boys 4 and 2 asking how she has handled them at the doctor office. She proceeds to give me an answer that I thought was brilliant, so I am sharing, she tells me to take washable crayons. This is such a simple answer yet amazing to me. Kids love to play with the paper at the doctor office and of course it never stays on the table; this way they can color all over the paper and if it gets on the leather patient chair you just take a baby wipe and it wipes right off! This is brilliant, I just love it!
I have found a few other helpful tips and suggestions as well (we will definitely be testing out all of them the next trip)
1, Washable Crayons (for coloring the paper on the checkup table)
2. Smart phone? Cartoons on YouTube
3. Coloring book
4. Quiet book
5. Sorting games
6. I have found some great busy bag ideas online as well
This post contains affiliate links br>